Head Start families: Head Start stands firm on celebrating our seasons and not focusing on holidays that some families choose not to observe. On Monday, we will celebrate the characters that make us laugh and smile by wearing clothing (t-shirts, pajamas) that highlight their favorite character. No costumes will be allowed and please keep all accessories at home (crowns, wands, swords, masks, etc.). We look forward to a day of fun and continued learning for our children!
Las Animas CDS is having our Fall Fest today from 3:30pm to 5:00pm. When you come to pick up your kiddo at the end of the day, come join us to play games, eat some spaghetti, and enter a drawing for a $20 gift card to Dairy Queen! Another huge thank you to everyone who is helping put this event on! We couldn't have done it without you! Bring the whole family for some fall fun!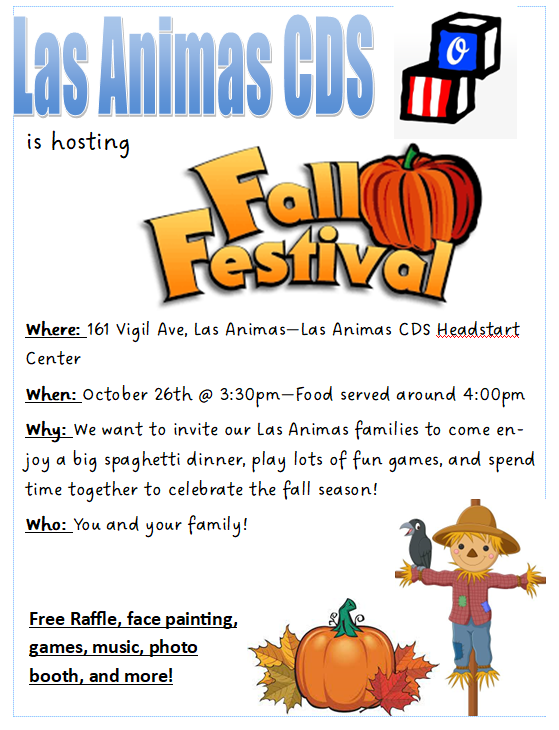 Las Animas Fall Festival is at 3:30pm! The previous text said 4:30pm and that was a typo. Apologies! The Fall Festival will be from 3:30pm to 5:00pm and food should be served around 4:00pm. Thank you so much to all of our donors! Please give us a call at 719-384-3180 if you have any questions. There will be plenty of food and games so your entire family is welcome! Can't wait to see you all there!
Las Animas CDS has so much going on this October! Make sure you're checking your calendar and newsletter each week so you don't miss it! We have the Fire Dept. coming, Picture Day, Dress up days, a Field Trip, Parent Teacher Conferences, AND a Fall Festival! We love to see everyone participating and learning along the way. Thank you so much for everything you do! See you there!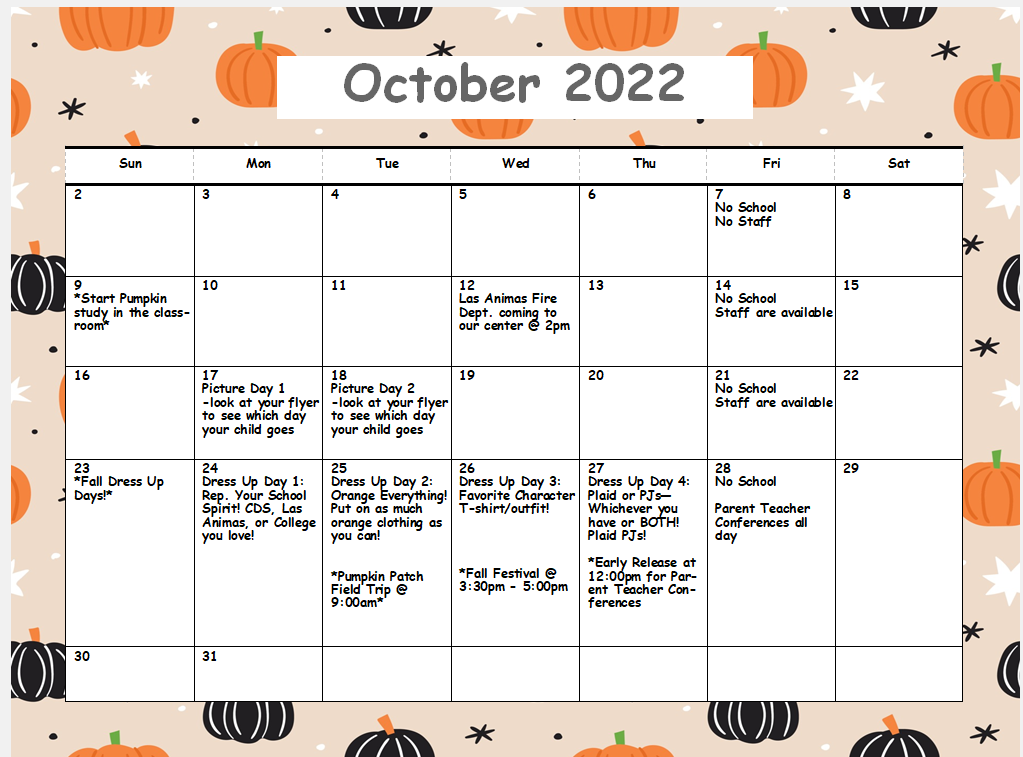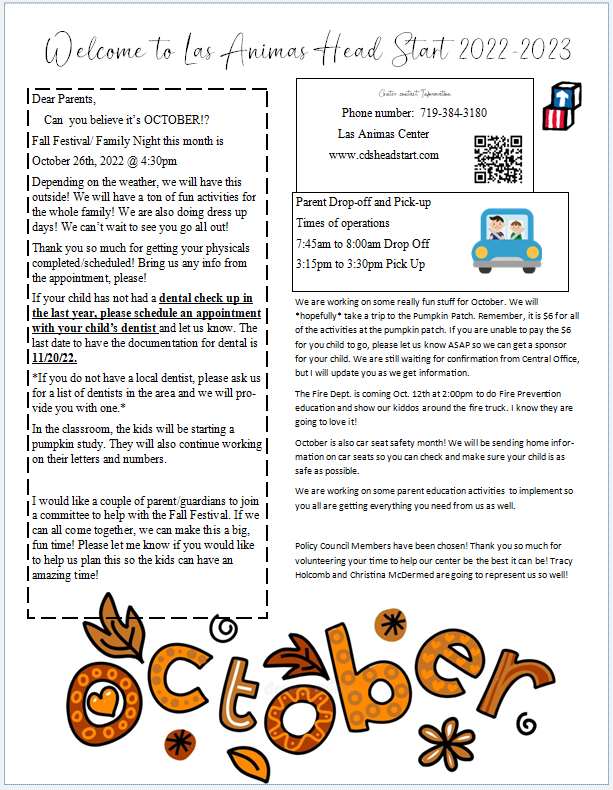 Good Morning! Reminder: Parent Night is tonight at 5:30pm to nominate our Policy Council & Parent Committee members! Can't wait to see you all tonight at the center in the annex building!
Code for America is a non-profit organization that is working in partnership with the state of Colorado to help improve the benefits application process for those who need it. Our team is visiting the Las Animas Head Start and would like to speak with people who have past experiences, good or bad, with applying for benefits like SNAP, GA, healthcare, etc using PEAK. We are looking for 3 people to speak with for 1 hour each on Thursday, September 22nd from 10am-3pm. For your time, we will be able to compensate you with a $50 Visa gift card! If you're interested, please contact Jamayka Savage.

Las Animas Head Start: The Las Animas classroom is closed to children this week due to COVID-19. Staff should report at their regular time.

Las Animas Head Start: The Las Animas classroom is closed due to exposure to COVID-19. Children can return on September 12.

Las Animas Head Start: There will be no school today, Thursday, September 1, due to staff shortages. Classes will resume on Tuesday, September 6.
Hello Las Animas Families! We are having Parent Orientation soon. You must come to one of the Parent Orientation Sessions before your child can start school on 8/23/22. Session 1: Thursday 8/18/22 @ 1:00pm Session 2: Thursday 8/18/22 @ 5:00pm Session 3: Monday 8/22/22 @ 12:00pm Please call the center if you cannot come to one of these scheduled times and we can arrange a meeting time that works for you. We can't wait to start the 22-23 school year! 719-384-3180 - 161 Vigil Ave. Las Animas, CO 81054
August Newsletter for 2022-2023 School Year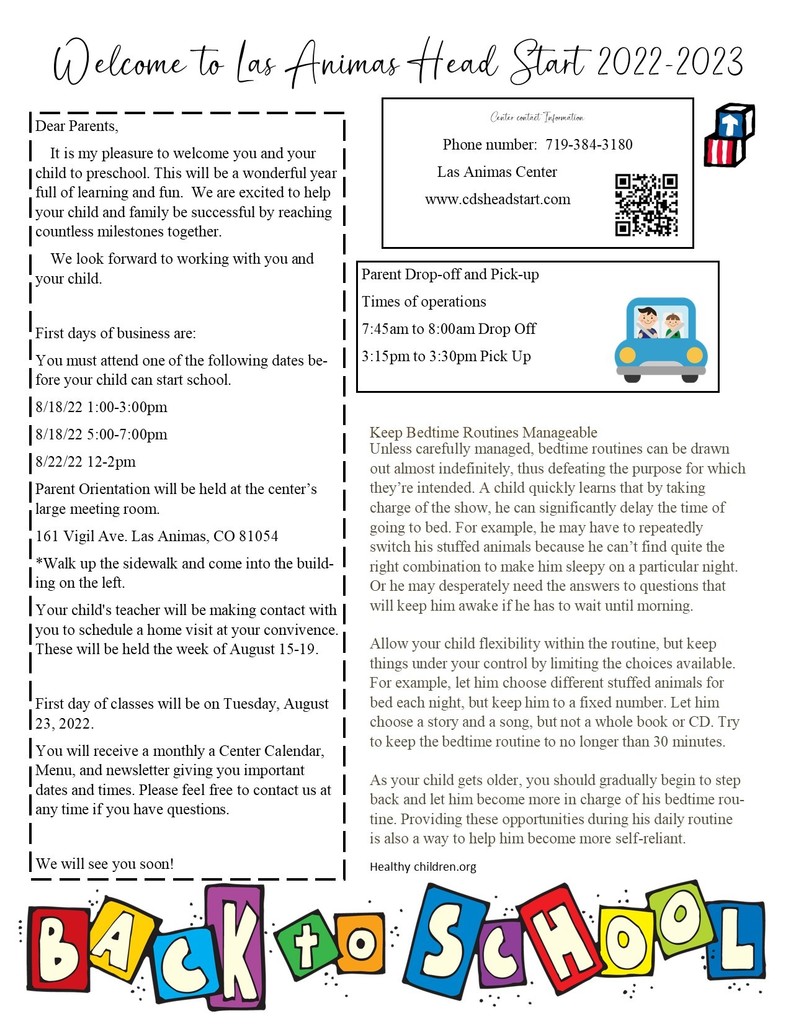 August Calendar for Las Animas CDS - Make sure you've scheduled a home visit with Ms. Bobbie, our teacher, and have found a day you can come to Parent Orientation. Home visit and Parent orientation have to be completed before your child can come to school for their first day.

Attention Las Animas Head Start families: Just a reminder that our year-end celebration will begin at 5:30 p.m. tonight (Wednesday). Can't wait to see everyone!
Did you know Colorado schools and community organizations are offering FREE HEALTHY MEALS to all kids and teens 18 and younger this summer? Pick up is easy- just grab and go! Text "Food" or "Comida" to 304-304 or visit KidsFoodFinder.org to find a location near you.

Be sure to check the papers that come home today... your Ordering Code for School Pictures is among them! We hope you're as excited to see their smiling faces as we are!

Here is another great career opportunity!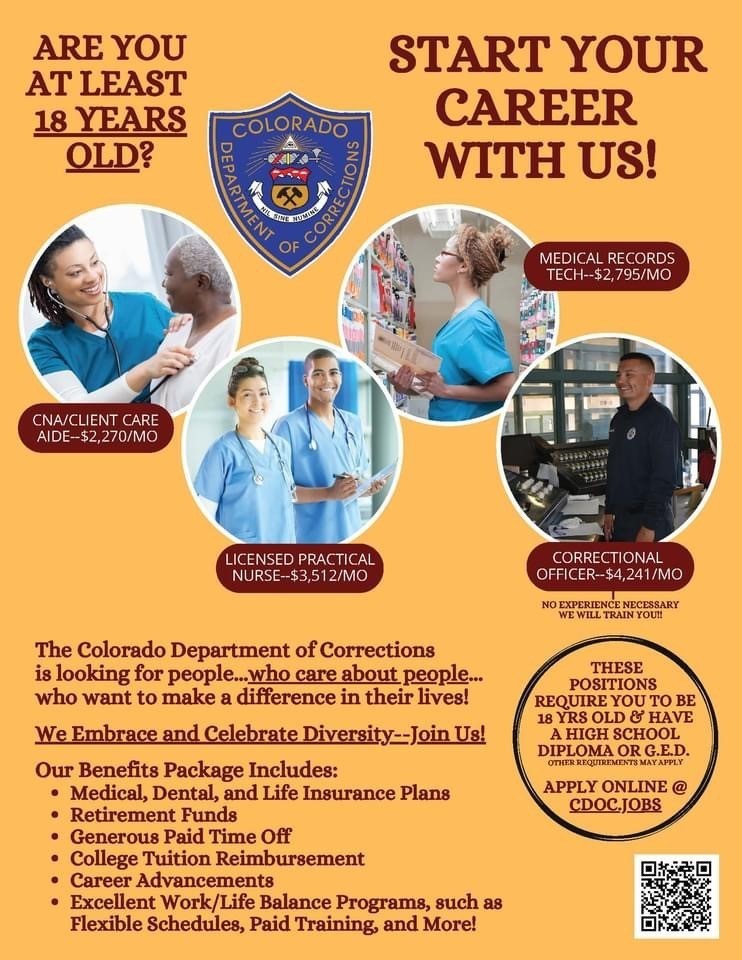 Woodruff Memorial Library in La Junta is holding their 6 Word Story Contest! What a fun activity the whole family can get in on! See the photo for Contest Rules and How to Participate- and have a BLAST creating with your kids!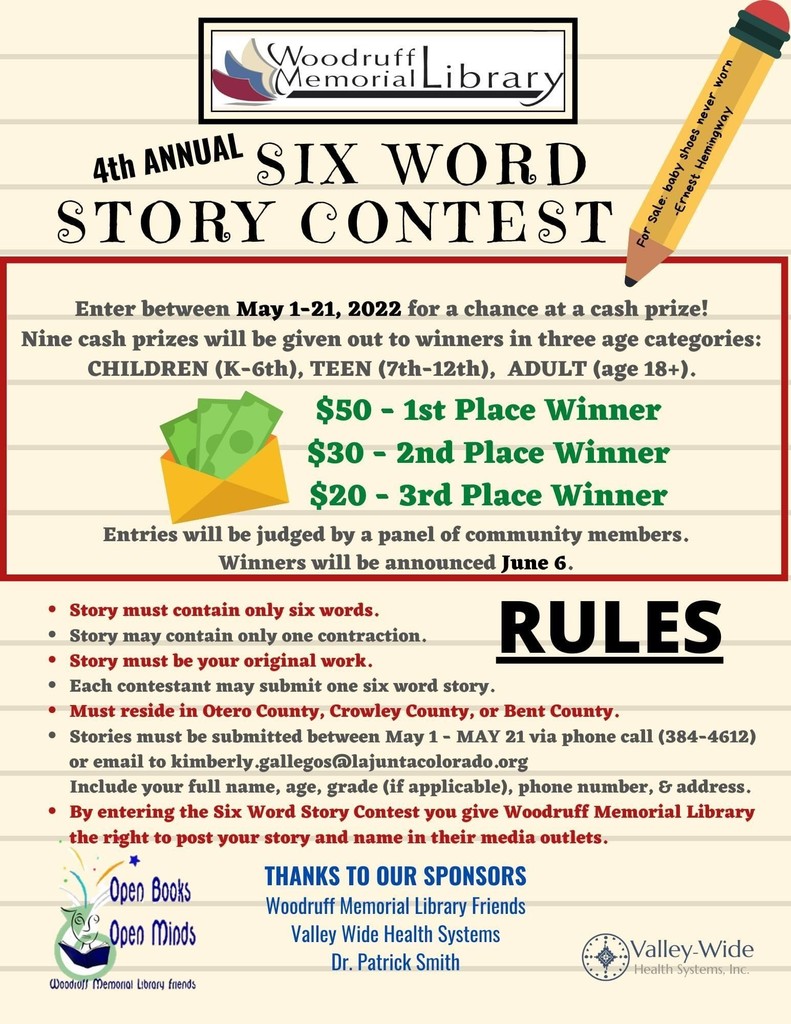 In the interest of safety of children, due to staff shortage, Las Animas Head Start will be closed today Thursday April 28. Services will resume as normal on Monday May 2. Tonight's Family Night will also need to be rescheduled.

If you're looking for work, or maybe a career change... Here is an event that might be helpful to you.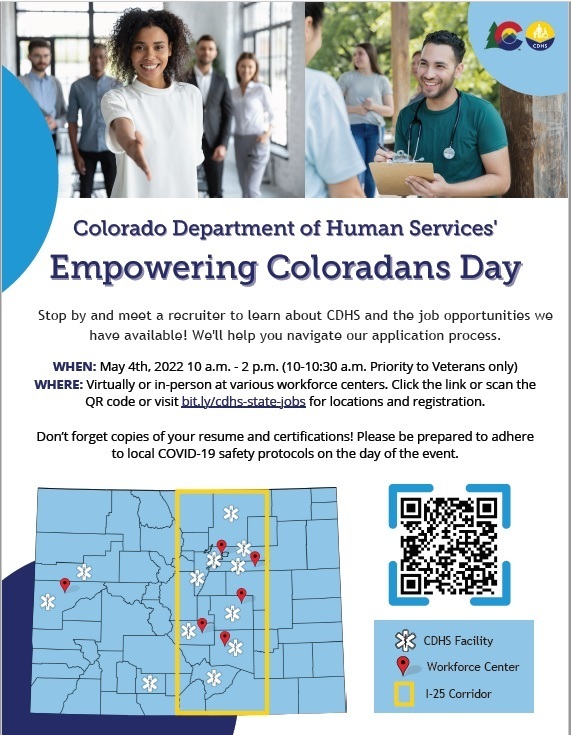 If you're struggling to put food on the table for any reason, we are here to help you. Please see the attached resource for Kitchen of Kindness. We have many other resources we can connect you with to help with food insecurity. Please reach out to your Family/Health Advocate if this is a concern for you! 719-384-3181 or
cassandra.maurer@ojc.edu