Parent Workshop Tomorrow, 3/14/23, at 2:30pm! We have invited our Facilities Operations Specialist to come speak with all of our families about how best practices in emergency situations. Please meet us in our annex building at 2:30pm!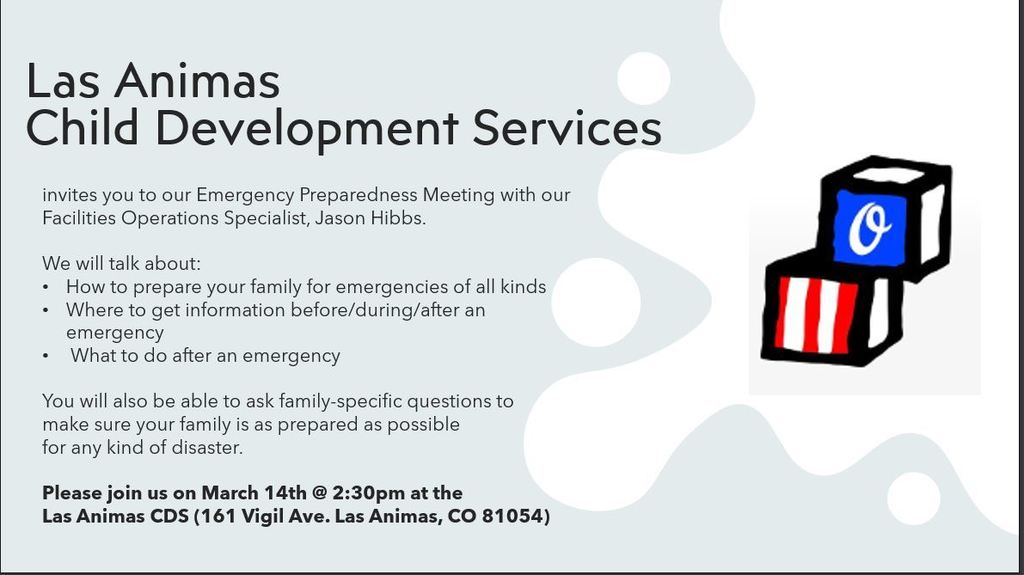 Hello! We are asking families to fill out a Parent Survey for the 22-23 School Year. We are looking for 100% participation from our Las Animas families. This is a great time to give us feedback on how we can better you and your child's experience with Head Start. Please click the link and complete the online survey before Friday February 24th, 2023 at 5:00pm. If you are unable to complete the online survey, we have a paper copy at the center. Let a staff member know you need a paper copy and one will be provided. You only need to complete the survey 1 time (on paper or online). Thank you so much for all your support!
https://www.surveymonkey.com/r/HSPS202223
Hello All, Our Beads, Beans, & Bingo event is TONIGHT @ Las Animas CDS at 4:30pm. The kids have been practicing their songs for weeks! We have Mardi Gras activities, Dental Health activities, and Bingo! We have also picked out some AWESOME stuff for our Bingo Winners! We can't wait to see you there!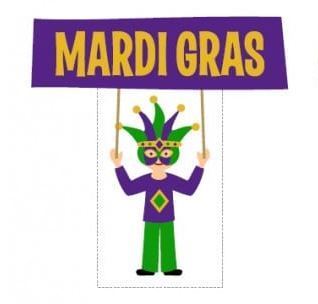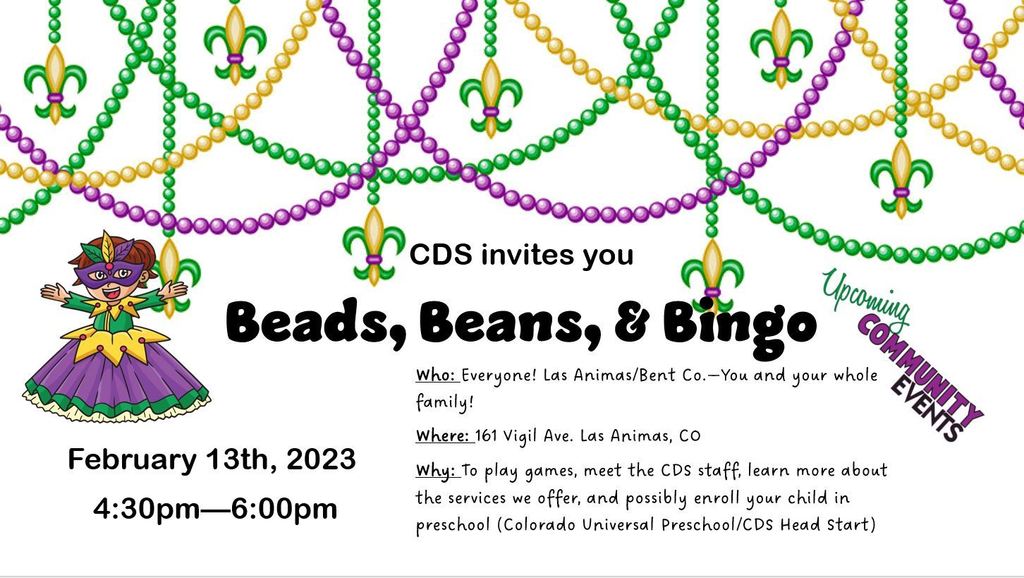 Las Animas CDS invites you and your family to our Beads, Beans, and Bingo family event on Monday February 13th at 4:30pm. Our students have been working on a performance while our staff have been working on activities to make this night super fun for the whole family! This is a community event and we encourage you all to invite anyone who may be interested in preschool services. Please call the center if you have any questions (719) 384-3180.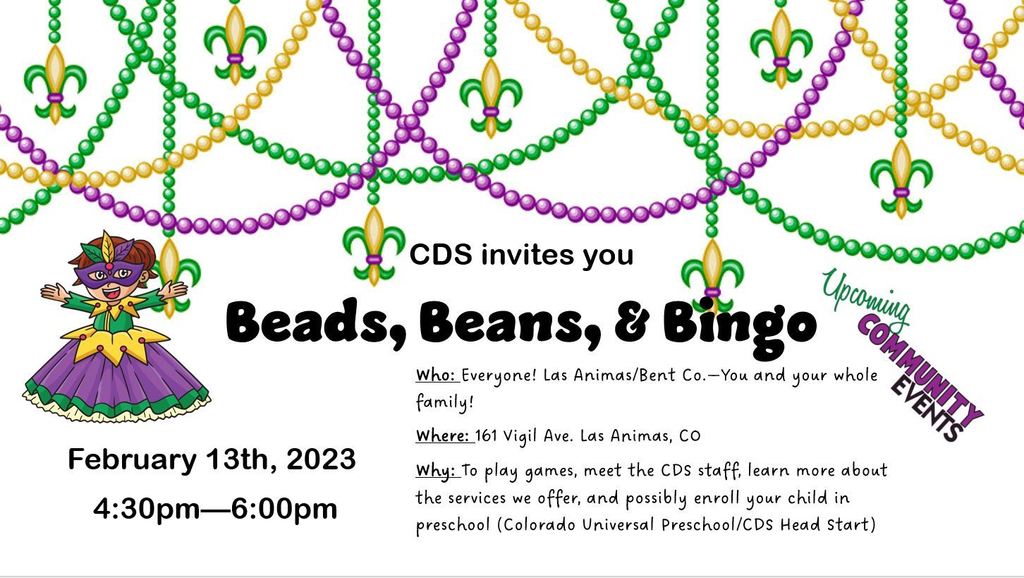 2023 Parents Encouraging Parents (PEP) Conferences are January 26-28th in Fort Collins, CO at the Fort Collins Marriott. Colorado Dept. of Education is paying for/reimbursing some expenses! Go online to
www.cde.state.co.us/cdesped/pep
to submit an application! You can also call them at (303) 866-6846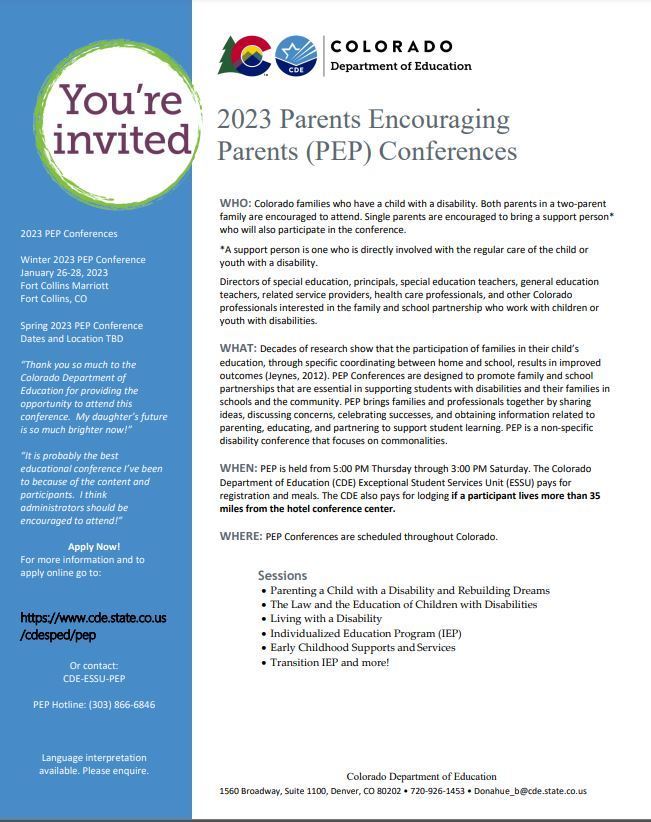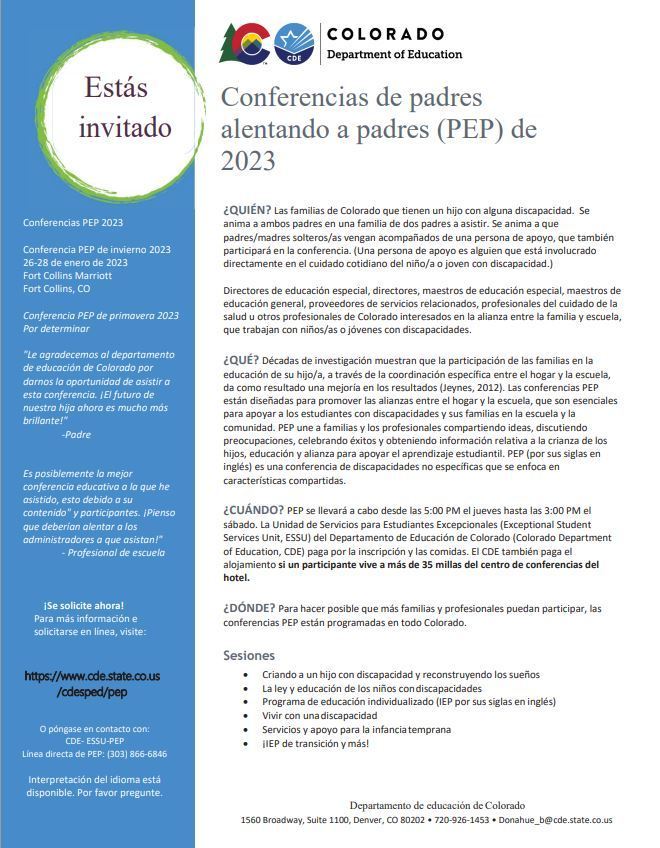 Interested in free preschool? We are hosting an event in Las Animas to learn more about UPK and Head Start.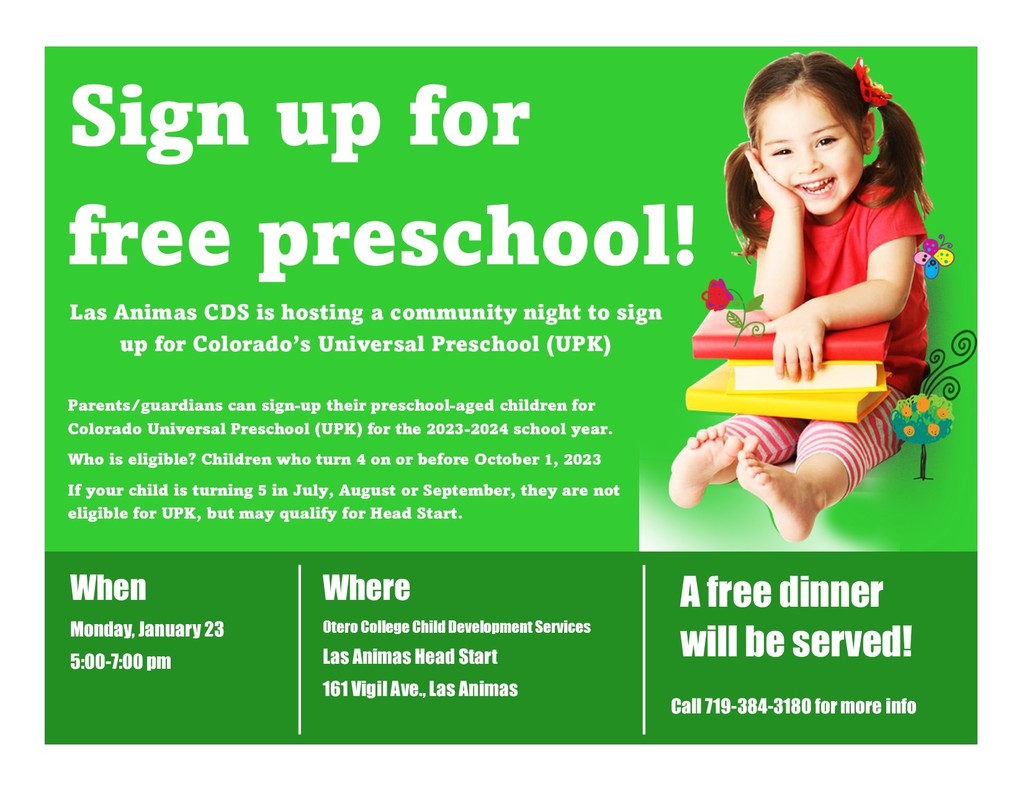 Las Animas Families, Unfortunately, family night at the Las Animas Library that was today at 3:30pm is canceled! The good news is it will be rescheduled for another date later this month. As soon as that date is finalized, I will let you know. We are so excited to partner up with the Las Animas Library and we want to insure we have as many families in attendance as possible. Thank you so much for your understanding. Please call our center if you have any questions 719-384-3180. Las Animas CDS Team
Las Animas Family Night today at pick-up! Pick up your kiddo at 3:15pm and before you leave come over to the annex for music and treats! We will be here until 4:00pm so if you need to take off and come back, you will have time! We're going to miss all of you so much over the Winter Break and we want to take the time to say Thank you for all you do!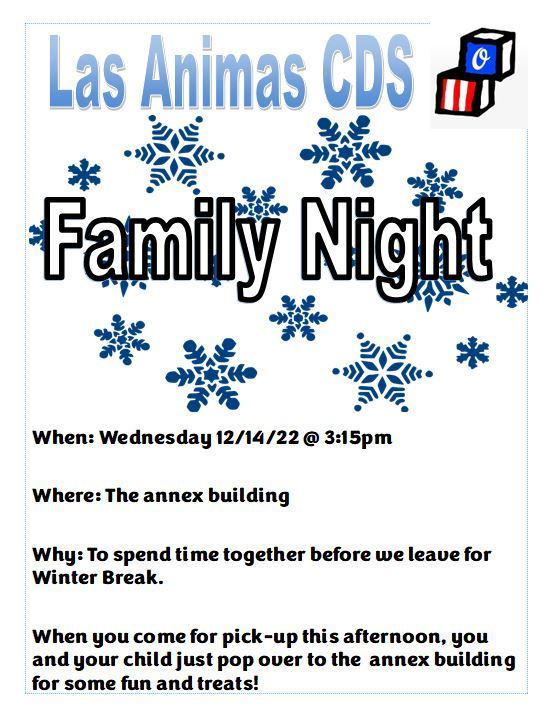 Head Start families: Head Start stands firm on celebrating our seasons and not focusing on holidays that some families choose not to observe. On Monday, we will celebrate the characters that make us laugh and smile by wearing clothing (t-shirts, pajamas) that highlight their favorite character. No costumes will be allowed and please keep all accessories at home (crowns, wands, swords, masks, etc.). We look forward to a day of fun and continued learning for our children!
Las Animas CDS is having our Fall Fest today from 3:30pm to 5:00pm. When you come to pick up your kiddo at the end of the day, come join us to play games, eat some spaghetti, and enter a drawing for a $20 gift card to Dairy Queen! Another huge thank you to everyone who is helping put this event on! We couldn't have done it without you! Bring the whole family for some fall fun!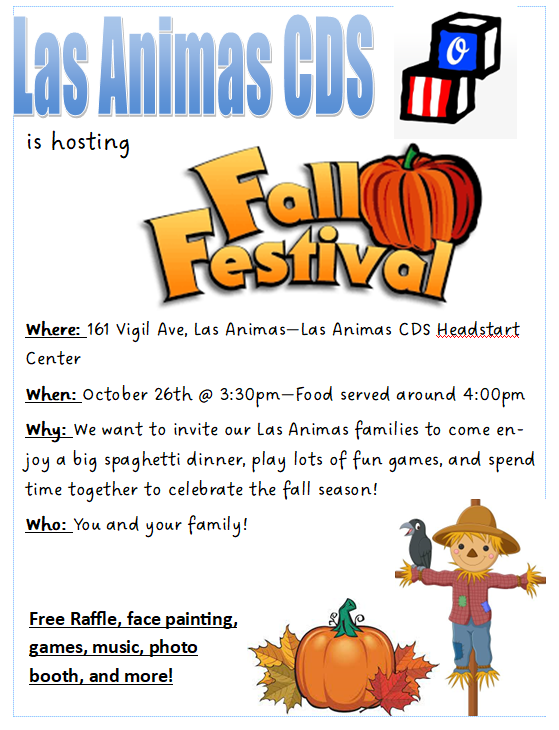 Las Animas Fall Festival is at 3:30pm! The previous text said 4:30pm and that was a typo. Apologies! The Fall Festival will be from 3:30pm to 5:00pm and food should be served around 4:00pm. Thank you so much to all of our donors! Please give us a call at 719-384-3180 if you have any questions. There will be plenty of food and games so your entire family is welcome! Can't wait to see you all there!
Las Animas CDS has so much going on this October! Make sure you're checking your calendar and newsletter each week so you don't miss it! We have the Fire Dept. coming, Picture Day, Dress up days, a Field Trip, Parent Teacher Conferences, AND a Fall Festival! We love to see everyone participating and learning along the way. Thank you so much for everything you do! See you there!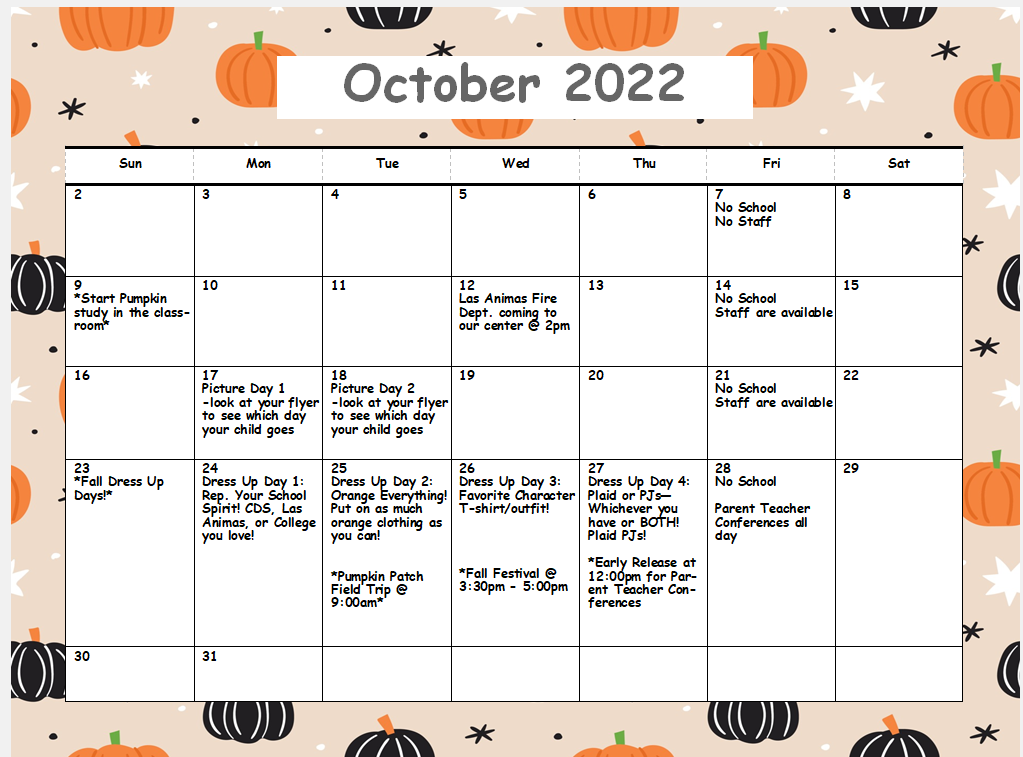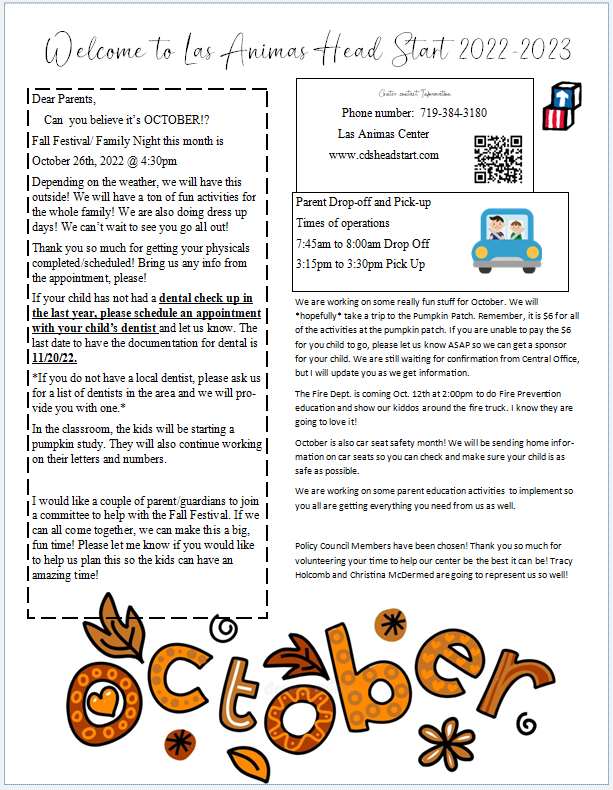 Good Morning! Reminder: Parent Night is tonight at 5:30pm to nominate our Policy Council & Parent Committee members! Can't wait to see you all tonight at the center in the annex building!
Code for America is a non-profit organization that is working in partnership with the state of Colorado to help improve the benefits application process for those who need it. Our team is visiting the Las Animas Head Start and would like to speak with people who have past experiences, good or bad, with applying for benefits like SNAP, GA, healthcare, etc using PEAK. We are looking for 3 people to speak with for 1 hour each on Thursday, September 22nd from 10am-3pm. For your time, we will be able to compensate you with a $50 Visa gift card! If you're interested, please contact Jamayka Savage.

Las Animas Head Start: The Las Animas classroom is closed to children this week due to COVID-19. Staff should report at their regular time.

Las Animas Head Start: The Las Animas classroom is closed due to exposure to COVID-19. Children can return on September 12.

Las Animas Head Start: There will be no school today, Thursday, September 1, due to staff shortages. Classes will resume on Tuesday, September 6.
Hello Las Animas Families! We are having Parent Orientation soon. You must come to one of the Parent Orientation Sessions before your child can start school on 8/23/22. Session 1: Thursday 8/18/22 @ 1:00pm Session 2: Thursday 8/18/22 @ 5:00pm Session 3: Monday 8/22/22 @ 12:00pm Please call the center if you cannot come to one of these scheduled times and we can arrange a meeting time that works for you. We can't wait to start the 22-23 school year! 719-384-3180 - 161 Vigil Ave. Las Animas, CO 81054
August Newsletter for 2022-2023 School Year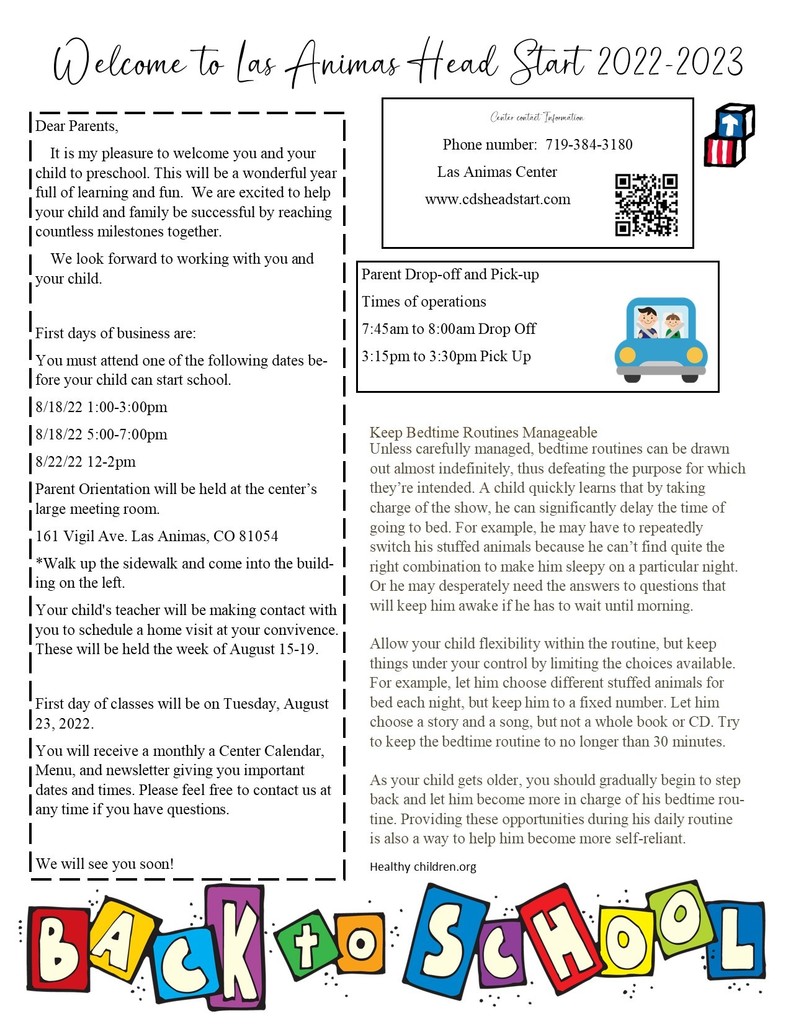 August Calendar for Las Animas CDS - Make sure you've scheduled a home visit with Ms. Bobbie, our teacher, and have found a day you can come to Parent Orientation. Home visit and Parent orientation have to be completed before your child can come to school for their first day.