Attention families: The Preschool 1 room at Center is closed due to COVID-19. Children can return on July 11. If your child experiences any COVID-19 related symptoms, please contact your local health department or primary care provider.
Attention families: The toddler classroom in Center is now closed due to COVID. Children can return on Thursday, June 9.
Did you know Colorado schools and community organizations are offering FREE HEALTHY MEALS to all kids and teens 18 and younger this summer? Pick up is easy- just grab and go! Text "Food" or "Comida" to 304-304 or visit KidsFoodFinder.org to find a location near you.
Migrant and Seasonal Head Start is now hiring for full-time, part-time and seasonal positions! Visit
www.cdsheadstart.com
for more information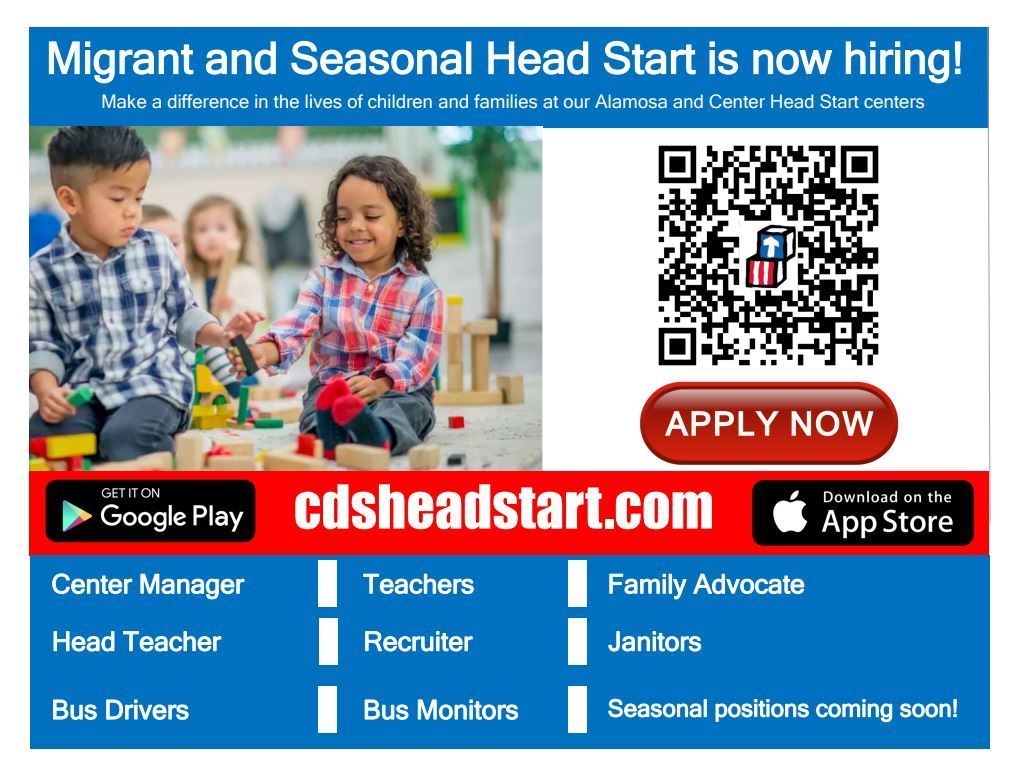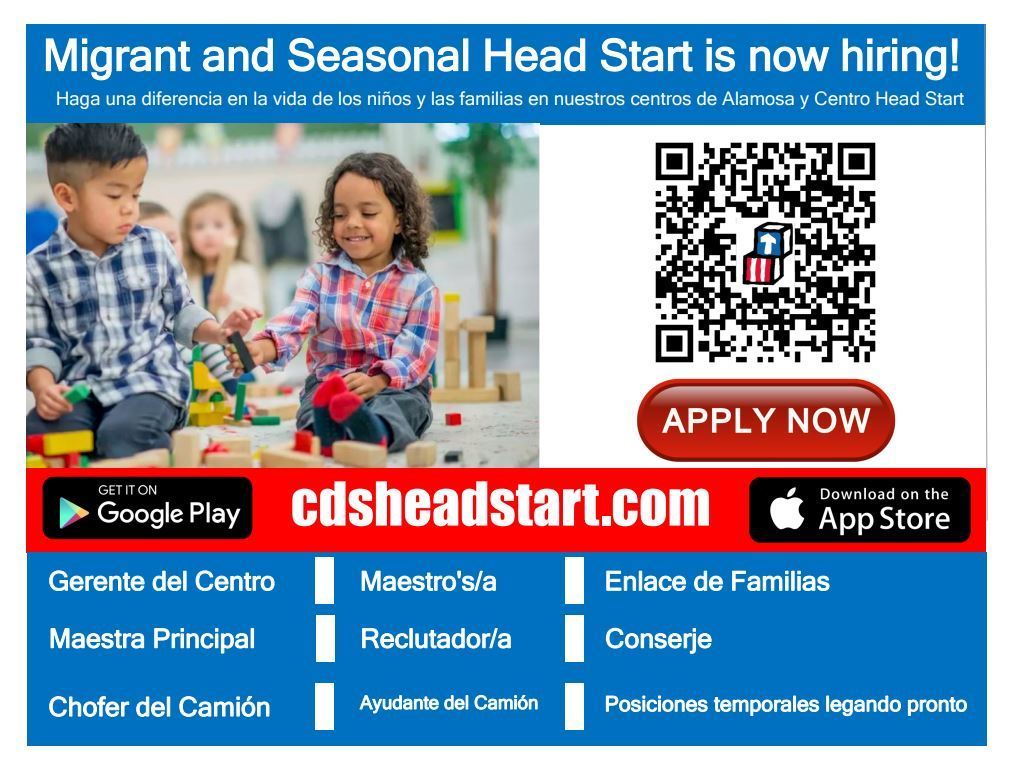 El salón de infantes del Centro estará cerrado hasta el dia 4 de octubre. Reabrirá el 5 de octubre. Los niños en el salón de Infant deberán estar en cuarentena hasta que regresen. Si su hijo muestra algún síntoma de COVID-19, comuníquese con su médico de cabecera o con el departamento de salud local. Gracias
The Center infant classroom is closed through October 4. It will reopen October 5. Children in the infant classroom will need to quarantine until they return. If your child shows any COVID-19 symptoms, please contact your primary doctor or local health department. Thank you
Attention parents: Bus Route No. 2, the Blanca & Ft. Garland bus route, will not run on Wednesday, July 28, only. We will resume normal services on Thursday, July 29.
MSHS Alert - We will not be having services June 4-June 11 due to staff training and parent teacher conferences. Thank you for your understanding. Alerta de MSHS: no tendremos servicios del 4 al 11 de junio debido a la capacitación del personal y las conferencias de padres y maestros. Gracias por su comprensión.
We're thrilled to announce Otero Junior College Child Development Services' new app! Access documents, news updates, even emergency notifications! Download the app on Android:
https://bit.ly/3mkdAhz
or iPhone:
https://apple.co/3woomaW
.

Head Start is a national program that promotes school readiness by enhancing the social and cognitive development of children through the provision of educational, health, nutritional, social and other services to enrolled children and families. These programs are free and provide for children through age 5 (6 weeks old to age 6 for Migrant and Seasonal Head Start).